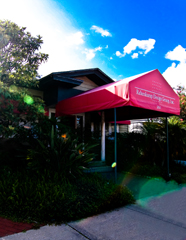 Rahenkamp Design Group, Inc.
Rahenkamp Design Group is a leading eminent domain and litigation support, land use planning, landscape architectural and development management firm in the State of Florida. Founded in 1986 by Registered Landscape Architect Eric E. Rahenkamp, Rahenkamp Design Group has provided quality work for over twenty years. Based in Tampa, Florida, in the Palma Ceia district, the firm has worked on various projects located throughout the State of Florida and the United States.
Eric E. Rahenkamp
Eric E. Rahenkamp is the founder of Rahenkamp Design Group, Inc. He graduated in 1984 with a Bachelor of Science in Landscape Architecture from Penn State University, and has over twenty years of experience in land use planning, site planning, landscape architecture, regulatory permitting and land development activities. While employed by John Rahenkamp Consultants, Inc., he served as site planner on a variety of large scale master planned communities throughout the United States including Flower Mound, a 5,000 acre new town in Dallas. Since forming Rahenkamp Design Group, Inc. in 1986, he has been responsible for the design, permitting, and development of numerous residential, commercial, recreational and office projects throughout the State of Florida, as well as providing litigation support services for real estate and eminent domain matters. He is qualified as an expert witness in land planning and landscape architecture in the Circuit Courts of Hillsborough, Pinellas, Pasco, Polk, Miami-Dade, Orange, Alachua, Volusia, Sarasota and Lee counties.
Eric E. Rahenkamp is a current member of the American Institute of Certified Planners and the American Planning Association and is a Registered Landscape Architect in the State of Florida (License #1554). He served as Vice Chairman in 2003 and Chairman in 2004, 2005 and 2006 for the City of Tampa Variance Review Board, as the Subcommittee Chairman for the Hillsborough County Affordable Housing Steering Committee, as a member of the Board of Directors from 2004 to 2006 of the Association of Eminent Domain Professionals, and as the Director, from 2008 to present, for the West Lakeland Water Control District. He was the winner of the 1995 Southeast Builder's Conference Grand Aurora Award and the 1995 Hillsborough County Planning Commission Community Design Award for site planning, landscape architecture and development management services for IAS Corporate Center.
Stephen Semonich, Jr.
Stephen Semonich, Jr. was born in Scranton, Pennsylvania, where he spent the majority of his childhood.  Throughout his youth, Steve had an admiration for the outdoors and aspirations of a career involving the environment, science and creativity.  With this inspiration, he decided to pursue his passions for design and the outdoors at the University of Florida, seeking a degree in Landscape Architecture.  In 2004, Steve earned a Bachelor of Landscape Architecture degree with honors that focused upon large-scale master planning and sustainable land development.
While seeking his degree, Steve interned at Rahenkamp Design Group, where he worked on community master planning and landscape design.  Shortly after graduating, Steve joined Rahenkamp Design Group as a landscape designer and dedicated his efforts to the firm's site planning and landscape design projects.  Since 2004, Steve has been responsible for many of the firm's landscape architecture, land planning and eminent domain projects, in which he developed an expertise in commercial site design and regulatory assessments.  Currently a Project Manager with over six years of experience, Steve oversees the firm's landscape design projects and manages the design and regulatory analyses prepared for land development and eminent domain projects.